"Rocky, Rocky, Rocky!!!"
"Cena, Cena, Cena!!!"
"Wanna get a latte after this?"
The "Grandest Stage of Them All" is around the corner, on April 1st 2012, Wrestlemania XXVIII goes live on Pay Per View. And while the "Super Bowl of professional wrestling" has always been hype-worthy, this year's Main Event (booked a full year before the fact) is one of those rare dream matches that are hard to define. Sure, Dwayne "The Rock" Johnson has wrestled Hulk Hogan before at Wrestlemania XIX, but by then Hogan had sort of washed away from the public eye. The Rock has remained relevant via his movie roles; while not Oscar worthy performances, they are indeed relevant enough to allow him to continue working on movies that break well over $200 million in the box-office. His opponent, one John Cena has remained the top baby faced wrestler of the WWE for a good portion of the New Millennium and, by default, the World. But John Cena is in a weird spot, he's the hero everybody seems to hate. Much especially when placed next to The People's Champion (and yours truly's favorite wrestler of the 90's) in this, even stranger, PG climate in wrestling.
Can the People's Champion prevail against the once formidable Doctor of Thuganomics? Or will he be Rock Bottomed by the man who is immune to his verbal jabs with his mantra to "Rise Above Hate?"
Oh, there's also the matter of this Wrestlemania being stacked from top to bottom, so why not look at the full card?
Kane Vs. Randy Orton
"Red brings the 'Sociopath' out of me"
If you would've told me that Kane was going to don his mask again, after what seems like a decade (oh, wait...), I would've called the men in white coats to come take you to Arkham Asylum. Because the chances of that happening were, honestly speaking, ridiculously low. This is a guy that's been booked... horrendously throughout his career, so a return to his "Monster" persona (complete with scary mask) in 2012 couldn't have been predicted by a sane person. But here we are, Kane in full blown "rape monster" mode and ready to main and destroy any opponent that comes his way. Lucky for Kane we have Randy Orton (affectionately called Super Orton by some) to give him a hell of a match at Wrestlemania. There's no real rhyme or reason for these two to duke it out, but Orton has been consistent in performance, regardless of opponent - and Kane needs an opponent to sort of continue elevating him back to the monster he needs to be (his past program with John Cena seemed to fizzle out and provide no pay off...), that being said I expect a solid, stiff match out of the two but nothing spectacular. If I were a betting man, I'd say Orton takes the win via cool RKO delivery (see CM Punk Vs Orton of last year's Mania), since that seems to be his Wrestlemania thing for the past couple of years.
Cody Rhodes Vs. The Big Show for the Intercontinental Championship
While I could go on and on about how Cody Rhodes has become a great wrestler in his own league and how The Big Show is an amazing competitor despite his shortcomings as a "big man" in the last couple of years (wear and tear that is), there's one thing that has me hyped about this match is the return of the IC Championship (white version no less!) back to Wrestlemania. The last time the Intercontinental Championship was defended at Wrestlemania was in XXV in a 20 second (!?) match between JBL and Rey Mysterio. And while I appreciate both men as wrestlers, I'm just happy to have a match between two people competing for a title that used to mean you were the 2nd best wrestler in the first wrestling federation of the World. that being said, if this match doesn't go over 10 minutes I might be throwing drinking containers at my computer monitor, just saying...
Sheamus Vs. Daniel Bryan for the U.S. Title.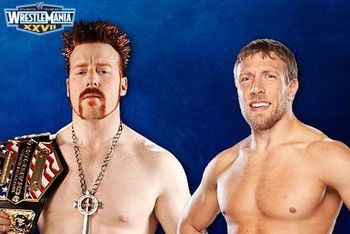 "We are so going to raise the roof, fellah!"
Wait, what the Hell...? OH!!

Right!

Wrong picture...
Sheamus Vs. Daniel Bryan for the World Heavyweight Championship
"About that year long wait to raise said roof..."
It is absolutely astounding what a year can do in the world of wrestling. Last year these two men were scheduled to compete in a match for the U.S. title (arguably the 4th most important title in the WWE) and their match was actually cancelled due to time constraints (that Snooki match was important, I think). This year they are competing for the 2nd most important (to some the 1st) title in the entire organization. If it wasn't for the fact that the card is absolutely stacked from top to bottom, we'd be seeing these two in the Main Event. think about that for a second, in one year they went from competing for a title that holds almost no real importance in the organization (let's get real...), all the while being canned at the last minute from the event, to damn near main eventing! Both wrestlers also were believed by some to "not be able to make it in the WWE."

Fancy that...

As far as predictions go, Daniel Bryan should be retaining here since his heel persona is slowly growing and taking the title away from him would only hurt his momentum. Sheamus, on the other hand, seems to work as a face that actively chases the title - and he should work with Daniel Bryan longer the best since his stiff brawler style compliments Daniel's in-ring technician/stiff shot machine.
Team Teddy Vs. Team Laurenitis for Complete Control of RAW and Smackdown
The new set of League of Legends champions don't look right...

Oy vey.

I don't know what it is about this sort of match, but I am incredibly indifferent to the shenanigans of Teddy Long and one "Johnny Ace." If I were to take a guess, it's mostly because the feud between the GMs seems random and not nearly (yet) as entertaining as say, Stephanie McMahon/Paul Heyman or even Eric Bischoff/Teddy Long. On both those feuds the GMs were actively trying to one up each other to garner ratings for their respective shows, a sort of "my wrestlers are better than yours!" type of thing. This was also during a particular era in the WWE when the brands being split pretty much individualized them and prohibited wrestlers from interfering with things from the other show. If a RAW wrestler was being attacked by it's entire roster, a Smackdown wrestler couldn't make the save since they were "contractually bound" to their home show. That Brand Split, as it once was, doesn't currently exist - so keeping the separate managers/titles/stories (sometimes) seems silly, and fighting for control of both shows seems even sillier - especially when you have prople like Triple H running around... isn't he still the C.O.O?

Bah...

Anyways - I fully expect Team Laurenitis to win since a Heel GM is the only type of GM that works in wrestling.
Undertaker Vs. HHH in a Hell in a Cell (HBK as Guest Referee)
The "Badass" meter might need to be replaced after this one...

Mother of God... this match, what is this I don't even.

It's almost as if they sat down at WWE HQ and tried to figure out how to "one up" the Rock/Cena match. Kind of like a bizarro "what if we were competing against ourselves on PPV that day?" Triple H Vs. Undertaker at Wrestlemania 27 was easily the best match of the card, to do a rematch (third time's a charm?) and then add the Hell in a Cell match stipulation is nothing short of genius. Despite the fact that HIAC has a shoddy (read: terrible) history in Wrestlemania, if any set of wrestlers can make it work it's two of the most prominent figures in the Cell's history. Add Shawn Michaels as the guest referee, who has extensive history with both men in and out of the ring and the HIAC match itself, and you could have the potential match of the night.
The stars are aligned, gentlemen, show the Miami crowd why you're all Hall of Fame bound.
CM Punk Vs. Chris Jericho for the WWE Title
Why the Hell does Jericho look like a midget here...?
The moniker of "Best in the World" has been used by almost every person involved in anything competitive since the beginning of time. In the realm of sports, it's not uncommon for someone of great skills to proclaim that they are the best. In wrestling, there have been many (many) wrestlers that have tried to claim to be the best in the world, but fall short. Within the short list of the truly greats, there's varying degrees of truth to this - but the fact is that it is rare, for the elite few who are the best, to proclaim so. Then there's CM Punk and Chris Jericho. Swollen egos aside, these two are, quite possibly, indeed the best at what they do; they are the complete package of wrestling: Technique, Mic Skills, Charisma, Physique. They are of the rare brand that brings all of those qualities to an almost miraculous level of perfection. They proclaim they are the best, because indeed (again, swollen egos aside) they have earned the right to do so. To see these two finally meet one-on-one and at the Grandest Stage of them All, is nothing short of miraculous in it by itself. I would be incredibly (and I mean incredibly) surprised if these two don't deliver a 5 star (StrawHat™) classic. Prediction wise I would love for some sort of draw (I miss time limits in wrestling...) that would enable these two to continue feuding (silly "alcoholic dads" and "substance abusing sisters" drama aside) well into the Summer months. But all the right money is on CM Punk to retain his WWE Title.
"Once in a Lifetime"
The Rock Vs. John Cena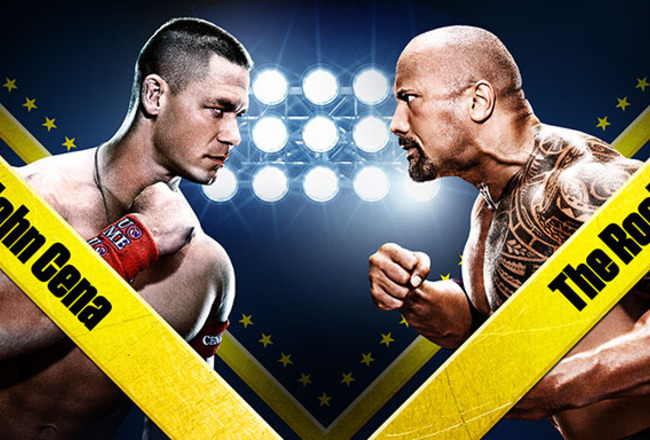 "About that Latte..."
Still reading?

You should be getting ready for this weekend, because matches like this one - are rare and to miss it live would be a huge disservice to wrestling fandom.

#TeamBringIt

See you April 1st!